It is fairly common knowledge that a better protected home is much less likely to suffer an attempted burglary or be at risk of a break-in, this is because of a lot of different reasons, which will be covered in this guide to the Best Home Outdoor Security Lights 2022.
Although it used to be the case that only businesses would have around the clock security in the form of CCTV systems, security guards or motion detection lights, the trend of better home security has been growing a lot in recent years.
It is not uncommon to see security measures such as CCTV cameras or home outdoor security lights keeping private residences safe.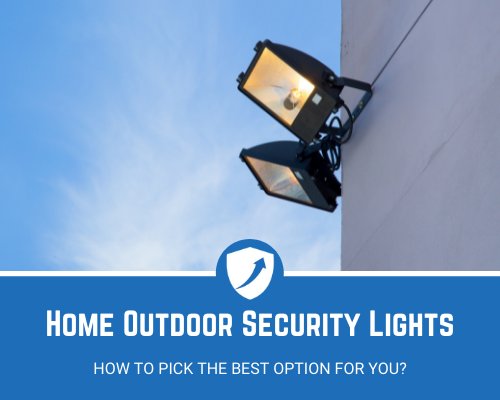 In this short guide, we'll be breaking down the important parts of home outdoor lights built to improve security, how they work and which are the best currently available.
In sum, we'll cover:
Best Home Outdoor Security Lights
Home Outdoor Security Lights Basics
How Home Outdoor Security Lights Work
Finding the Best Home Outdoor Security Lights
Reviews – Best Home Outdoor Security Lights
Summary – Home Outdoor Security Lights
Overall #1 Pick Home Outdoor Security Lights
There have been a lot of factors that have affected the increase of home security from the more widespread use of solar-powered security technology to the reduction of costs and availability of options on the market.
JESLED Sensor Security Light
Our top pick for home outdoor security lights is – JESLED Sensor Security Light, as it is a versatile motion sensor light that is designed for an array of placements and has flexible options for any placement.
From the sensor read range and wide field of view to the brightness of the LEDs to the different sensor modes on the security light, there is a lot of viability with this option for home security.
The large battery size means that with one full charge the home security light can be used for multiple days in a row if there is less light throughout the daytime, which makes it perfect for the winter and darker days.
Our Top Home Outdoor Security Lights
JESLED Sensor Security Light (Our Top Pick)
Bapro Home Outdoor Security Floodlight (Best for Smaller Houses)
Claoner Solar Sensor Light (4 Pack) (Best for Bigger Houses)
National Lighting Motion Sensor Outdoor Light (Best Budget)
What are Home Outdoor Security Lights?
Home outdoor security lights do exactly what they say on the tin, they are a form of home security that helps illuminate the outside of your property in low-light conditions. The majority of home security lights are motion triggered within a fairly short radius, but do the job they need to, keep your home secure.
Outdoor security lights are great when paired with different types of home security systems, and they play well with other technologies or crime deterrents.
Home security lights can help improve the effectiveness of other systems from CCTV cameras to home doorbell technologies and can even be effectively paired with a gravel drive; the noise is known to be a crime deterrent as it draws too much attention.
Unlike other security systems for home protection, outdoor security lights are fairly similar to each other, as they only have one core function, to trigger when motion is detected. Outside of the customisable settings and light brightness, the majority of home outdoor security lights are comparable but this does not make all lights equal.
Benefits of Home Outdoor Security Lights
Having a home security lighting setup can have a wide range of benefits and there are a lot of reasons why someone might look at installing home outdoor security lights, from a previous break-in attempt to a recent move, to rising crime in the area, to hearing about a neighbour installing one.
Keeps Your Home Secure
The most obvious benefit to the whole outdoor security light installation is the increased ability to keep your home secure and make it feel like a safe environment for you, your friends and your family. Criminals will look for easy targets when planning to burgle a property, so one that has security lights or cameras is much less likely to be targeted.
Plays Well With Others
When it comes to home security, a lot of people like to mix and match different technology types, with a vast majority of people looking at installing CCTV alongside their outdoor lighting options. Pairing an outdoor security light with a CCTV camera increases the effectiveness of both of the technologies and means you can maximise both of them.
Motion Triggered
Having a security measure that activates only when it is needed helps reduce false alarms and also saves on the energy bill (if there is even one, more on that next). Also, having a motion triggered security light means you can know when someone or something is outside your home. Depending on how sensitive it is, you may even know when your neighbour's cat is in your garden too.
Solar Powered
One of the reasons people are often reluctant to install security measures at their homes is the additional cost. The purchase and installation is not the problem, it is more the ongoing costs, but with solar powered security lights, the majority of the power, if not all of it, is generated from light and not your mains. In addition, pairing these lights with a solar powered camera can cover you around the clock.
Gives Peace of Mind
This can come in a number of ways, for instance if you live alone, you can feel more comfortable getting into your front door with a light on your porch, or if you have a back garden you can have it lit up when you are out there and create a nice social space too.
Increases Property Value
One of the additional benefits of installing home outdoor security lights is increased value on your property, it is a good investment that makes your home look more premium and gives your property a higher resale value. Even if you are not looking to sell your home, it still can improve the ambience of your outside space.
How Do Home Outdoor Security Lights Work?
As we have alluded to in previous sections, home outdoor security lights are triggered by motion within their read range, meaning as soon as something above 'X' size walks past the sensor the light will turn on.
Each security light will have a different read range and field of view, with some being able to pick up motion from much further away such as the length of a garden or driveway, and others being more short range. In terms of field of view, you can get a security light that can pick up a wide area of movement in its peripheral vision and directly in front of it too.
It is important to note that any form of additional lighting has a positive impact on reducing crime, whether it is used at a home or on a city street, having supplementary lights in any environment can create a much safer and secure area for everyone.
So, to make a long story short, home outdoor security lights work by illuminating dark areas which criminals use to remain anonymous and commit break ins, crimes or determine whether to burglarise a home.
In addition, if you and your neighbours all have home security measures, your property is going to be much more secure and create a much safer neighbourhood.
If you all are installing outdoor security lights and other crime prevention methods you will exponentially increase your homes' security.
What Do You Look for in the Best Home Outdoor Security Lights
Unlike other security technologies on the market, home outdoor security lights are fairly simple to wrap your head around, but this does not mean they are created equal. Let's explore some of the things you should look out for when selecting the best security lights for your home.
Coverage Range
Finding a home security light that can illuminate the area you need it to is important. For most people, you are only looking to cover a small area with the light, but different house layouts will determine what is best for you.
Sensor Field of View
Making sure that your motion sensor on your light has a good field of view is something most shoppers will overlook. You want to ensure that you have selected a model that can capture movement in a wide field of view so you can capture any motion within that area. Obviously, if you are only covering your side gate and path this is not always necessary, each case is unique.
Brightness
There is no doubt that having a brighter security light will act as more of a deterrent and will keep your home more secure. So, looking for an outdoor security light that is brighter, or at least has customisable modes, is an additional thing to keep an eye out for.
Additional Settings & Modes
As mentioned above, having a home outdoor security light that has different modes and settings is a nice feature to look out for when on the market for lights. Having the ability to change the settings at different times of year so lighter evenings can have a dimmer light and vice versa.
Price
For some reason when it comes to our home security, we are always in the market for a better deal than if we were shopping for a business or for work. Luckily, the home outdoor security light market is very competitive which means that you can secure a good deal on a light that is still highly effective.
Connection Type
Different home outdoor security lights will have different ways to connect to power or even be fully wireless. A lot of security lights will operate on a battery and solar power tandem, meaning that they can charge their own battery with daylight.
This does not mean it has to be direct sunlight, just light in general, even cloudy days can charge a solar-powered light or a solar CCTV camera.
Ease of Installation
When installing a home security setup it is important to find one that you can do yourself for the most part, and that is typically what people will look for. The majority of home security lights are designed to be installed by laymen and not an electrician, so anyone should be able to easily install them.
Best Home Outdoor Security Lights Reviewed
In this section, we will be covering four different options for home outdoor security lights in 2022 and beyond, this will give you a better idea of what lights are available on the market.
Every home will have different challenges and layouts that will lean towards a different type of home outdoor lighting set up, but hopefully this gives you a good idea of what is on offer. We will be looking at our top pick, the best for small homes, larger homes and a budget option to cover all bases.
JESLED Sensor Security Light (Our Top Pick)
If you are on the hunt for an all-rounder home outdoor security light, then look no further.
The JESLED home security light is a capable and versatile option for any home security operation, from the easy installation and simple instructions to the variety of modes available, to the ability to work around the year regardless of the amount of sunlight, is a massive plus.
Although you could technically install this home security light indoors, outdoors is where it really shines (no pun intended), the outdoor light has a built-in Ingress Protection (IP) rating of 44 which makes it perfect for any weather and has secure housing against dirt, dust, water and debris.
There is also the option to get a two pack of these home security lights to allow for two entrances or areas of your home to be safely covered by the motion sensor security technology.
Pros (+)
Cons (-)
+ 30ft read range and wide field of view
+ Multiple modes for different types of motion capture (always on, motion-triggered with bright light and motion-triggered with dim light)
+ Simple to install and adjust or remove
+ Weatherproof to IP44 (protected from dust, debris and rain)
– Can be too bright or too dim depending on the coverage area
Bapro Home Outdoor Security Floodlight (Best for Smaller Houses)
This Bapro home outdoor security light is an effective option for a smaller home or a small area that needs to be covered.
There are multiple options available from the seller from 10-200w and two different colour options (warm white and cold white), this makes it a versatile option for a range of uses.
The lights are all IP65 waterproof and are designed to be used outdoors in harsh conditions, meaning they are protected against water, dust and debris. In addition to the low cost of running the LED light, there is also an additional energy-saving chip built into all the lights.
Bapro boasts the ability for their lights to be used in a wide range of situations and can be effective for a lot of different home and private use applications from driveways, to gardens, to courtyards to tennis courts and more.
Pros (+)
Cons (-)
+ Different colour and wattage options to fit different placements and preferences
+ 120 degree beam angle to cover a wide area
+ Simple to install and setup
+ Emits a good strength light without using too much electricity
– Has cables and is not solar-powered
Claoner Solar Sensor Light (4 Pack) (Best for Bigger Houses)
Finding a viable set of home outdoor security lights can sometimes be a challenge, so we found this highly recommended 4 pack of solar sensor lights that fit the bill for any larger home or property.
The different lighting modes on these lights mean that they can be customised to work however you want them to, either sensor mode (in two brightnesses) or left on for up to 8 hours overnight.
The solar panels on the lights mean that the lights are not only easy to install and place around your property, but also do not require any power and thus, incur any additional cost. This is an important detail to note as a lot of homeowners do not like splashing out when it comes to their home security.
As with the majority of reputable home security lights, these have been designed to be used outside and therefore have IP65 waterproof rating, keeping the housing secure from dirt, water and dust.
Pros (+)
Cons (-)
+ Easy to install all the security lights
+ Multipack can be used to secure multiple areas of a larger home or property
+ 3 modes to choose from (strong light, medium light and dim light)
+ Solar-powered lights to save on electricity bill
– Slow customer service times for issues
National Lighting Motion Sensor Outdoor Light (Best Budget)
Although there are always budget options available in the security industry, that does not always mean you should go for them. As a rule of thumb, it is not advised to go for the cheapest option when it comes to security.
However, with this in mind, we have looked at a competitively priced option for the outdoor security light market. If you are searching for a lower cost home outdoor security light, then this National Lighting model is for you, despite the shorter range, it can still be effective in a smaller area or alleyway.
Despite being a cheaper option, this model still has a strong IP44 rating on the housing, keeping it secure and safe to use outside in any conditions. In addition, the design is robust and looks professional, if a little dated.
Pros (+)
Cons (-)
+ Lower watt bulb which is not as bright as other models so can be used effectively in smaller areas
+ Customisable timer which can be set at 10 seconds to 4 minutes
+ Reliable and robust design that can last for extended periods of time
+ Passive infrared sensor (PIR) means it works effectively in very low light conditions
– Slightly lower coverage degrees than other options on the market (110 vs 120+)
Final Thoughts on Home Outdoor Security Lights
As we can see there are some different things you should keep an eye on when shopping for home outdoor security lights, but finding the right lights for you and your home should not be too taxing. Due to the availability and similar nature to most security lights, you can be fairly safe in the knowledge that you are getting what you paid for.
When it comes to the security industry, finding a solution that is right for you and your home is the most important thing to remember, there is not a magic potion that works for everyone, so do your research and make the decision based on your unique position.